Powertrain Electronics provides accurate air-fuel ratio analyzers and an engine electronic calibration service.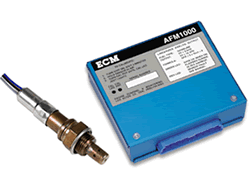 These analyzers and services are the best to be offered in the industry for accuracy and performance.
Engineers at Powertrain understand your need to obtain the maximum performance from the engine. For this reason, they had a state-of-the-art Air-Fuel Ratio analyzer designed which will allow you to measure an engines combustion Air-Fuel Ratio accurately. When you need to increase you engines power output up to 50% without modifying the engine, a Whipple Supercharger kit is the solution. These kits are available for many applications.
Services: Our team at Powertrain can provide complete electronic fuel injection calibration and system design. We can achieve any power level through proper system design and implementation. A few recent projects include: an inter-cooled/supercharged 1998 big block powered GM truck using an OEM computer and dual MAF sensors making over 650 horsepower and a supercharged, port injected small block Hummer producing 575 horsepower.